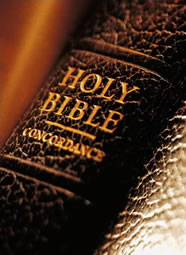 The Bible
We believe that the Bible is the inspired Word of God, recorded by human beings at God's leading, and true for all generations of people. We view the Bible as the sufficient and authoritative guide for the conduct of our lives as Christians.
As the Word of God, the Bible is the record of how God has revealed Himself to humanity. The Bible also reveals God's nature and the ways in which He relates Himself to us.
We believe that each individual has the responsibility to interpret the Scripture under the direction of the Holy Spirit.
The Trinity
We believe in the reality of God as Father, Son, and Holy Spirit—what theologians describe as the Trinity. The Trinity in no way implies more than one God or that there is a division in God's nature that limits the way He relates to us. The Trinity is a Biblical truth derived from the Bible's description of God's revelation of Himself.
God
We believe that God is Spirit and is experienced in terms of His eternal, spiritual nature. God has revealed Himself to us in the beauty of creation. Also, He has shown us essential truths about His nature through the inspiration He gave to those who wrote His divine Word, the Bible. The supreme revelation of God is the person of Jesus Christ, in whom God fully revealed Himself. In revealing Himself to us, God called us into fellowship with Him. God is worthy of all praise and glory. We direct our worship to Him and seek His will for our lives. Both as individuals and as a body of faith called the Church, we seek to be obedient to God.
Jesus Christ
We believe that Jesus was conceived of the Holy Spirit and born of the woman Mary, a virgin. Reared by Mary and Joseph, Jesus grew and developed into manhood. Therefore, Jesus was subject to all the temptations we experience, but He was without sin.
The title "Son of God" describes the man Jesus and his unique relationship with God. The uniqueness of this relationship centers around the fact that in Jesus, God identified Himself fully with humanity by Incarnation. Through this Incarnation, God took upon Himself the limitations of humanity in the person of Jesus of Nazareth, whom we call
Christ or Messiah because He gave His life as a ransom for many. This was the fulfillment of God's promise of a Savior (Matthew 20:28

).
In keeping with God's plan for our salvation, Jesus died on the cross, His death being the means by which God forgives our sins. Jesus was resurrected from death by the power of God. Today, He is our advocate with God, giving us confidence of our standing in faith before God. In the future, Jesus will return to complete God's judgment on the earth.
The Holy Spirit
We believe that God lives in the heart of every Christian through the Holy Spirit. This indwelling Spirit brings forth fruits necessary for Christian growth and gives us spiritual gifts which support our worship and strengthen us for the service to which we are called. The Holy Spirit is the source of our power for Christian living.
The Church
The Church is not a building but the people whose faith is in Jesus Christ. The Church consists of all believers in, and followers of, Jesus Christ, past and present, regardless of their denomination. It is in that sense that the Church is "the Body of Christ" and the "the Bride of Christ."
The Church also is local, meaning that believers gather at a particular place and time to worship the Lord, receive instruction from the Gospel, experience the fellowship and support of their fellow Christians, and then return as Christ's representatives to the world.
Important to our position as Christians is our conviction that only one's faith in Jesus Christ, not membership in any particular group identified as a church, makes one a Christian.
We also believe that a local church should be a democratic assembly that is free to govern itself. This right of self-governance does not interfere, however, with our desire to affiliate with other Baptist churches.

Sin
We believe that sin is more than an act; it is a spirit of disobedience that separates us from God and is part of our nature. It is the ultimate selfishness of life, as we insist on our own way and attitudes regardless of the consequences. While others may suffer because of our individual acts of sin, our sin is first of all against God and breaks our fellowship with Him. The Bible says that no man is without sin, that all of us are willfully disobedient to God, and that we are accountable to God for both our thoughts and our actions.
Jesus died on the cross as God's way of reaching across the barrier of our sin, taking upon Himself the guilt of our sin to restore our fellowship with Him. Dying for us on the cross, Jesus, as the Christ, satisfied God's claims for justice against our sinfulness. God demonstrated His power over sin through the Resurrection of Jesus Christ.
Although faith does not make us immune to sin, it enables us not to be dominated by sin. Also, faith enables us to experience God's continuing forgiveness.
Repentance
We believe that repentance is the act in which we turn from sin in order to walk in fellowship with God. This decision comes about because of the Holy Spirit's work within us, causing us to hate our sin, confess it, and receive the salvation that comes to us through faith in Jesus Christ. Repentance is also a continuing personal act. As we grow
and mature in our Christian faith, the Holy Spirit reveals attitudes and actions that are inconsistent with the Gospel of Christ. This convicting presence of the Holy Spirit calls us again and again to repentance.
Faith
We believe that faith is believing in God through Jesus Christ and expressing this belief by living in accordance with Christ's teachings as set forth in the Bible. Also, we believe that faith is confidence that God has shown Himself to us in Jesus Christ, that through grace He saves us from sin and its punishment, that He fulfills His promise to be with us
continuously through the Holy Spirit, and that He will keep us eternally. Living by faith means that we live according to this belief in God and are able to feel His love and presence in our lives.
Salvation
We believe that salvation is the act of God which frees us from the condemnation of sin.  Christians refer to salvation in different ways: as conversion, regeneration, being saved, or as new birth. We receive salvation as a free gift of God through faith only in Jesus Christ as Lord and Savior without any works of human merit whatsoever. We believe that God has revealed Himself to us in Jesus and that when Jesus died on the cross, He bore the condemnation of our sins. We believe that the Resurrection of Jesus is the ultimate evidence that God's plan of salvation is complete. Through the gift of salvation, our sins are forgiven, God accepts us in Christ Jesus, and we are granted eternal life with God.
Baptism
We believe that Baptism is the public portrayal of our obedience to God and identifies us with the death and Resurrection of Christ through our faith in Him. Through Baptism, a believer declares his or her decision to live as a Christian and to be a disciple of Jesus Christ. It does not add to nor secure our salvation.
We believe that immersion best portrays baptism because it pictures all that Jesus Christ has done for us in His life, death and resurrection. It also confesses the new relationship we have with God through our own death to sin and the resurrected life that comes with faith in Jesus Christ.
Communion / The Lord's Supper
We believe that the observance of Communion/The Lord's Supper is a symbolic act by which believers remember the life and death of Jesus and anticipate His return in the end times. It does not add to nor secure our salvation. It is an act of obedience to Christ's command that we share the bread and the fruit of the vine as a way of recalling His plan of salvation and His promise to return.
Judgment
We believe that humanity is accountable to God. In God's own time and in His own way, He will bring the world to its end in a time of judgment. The return of Jesus Christ will usher in this time of humanity's accountability, and it will be accompanied by the resurrection of the dead. The Judgment will be the consummation of God's victory over
Satan.
Stewardship
We believe that all of our spiritual blessings and material possessions come from God.
We are, in fact, trustees of God's blessings. This places upon us a binding stewardship of our possessions and spiritual gifts. We recognize, therefore, our need to contribute from our material possessions in a liberal, willing, and sometimes sacrificial way in order to advance the message of Jesus Christ. We also believe that our stewardship includes the proper use of our time, talents and spiritual gifts in order to spread the Gospel and build up the fellowship of the Church.